My son is a huge Lego fan, and my daughter has begun to follow suit. Having been surrounded by tons of Legos lately (my daughter just had a birthday), and since I'm a bit of a nerd, I decided to google "Lego wedding." Call it boredom - mixed with curiosity - but, surprise! I found some pretty cool stuff!
My biggest thrill was that
I found the post,
One Bride's One-of-a-Kind LEGO Theme Wedding
,
which has a interview with the Lego-loving
bride.
The couple sent out Lego invitations, and even had fishbowls filled with Legos as table decorations - which guests proceeded to pour out and build! The bride's mom even got into the spirit and ordered the customized Lego wedding topper for the cake.
The bride mentioned that she was inspired by the LEGO wedding cake created by Eric Har
shbarger, which I was compelled to check out.
As you can see by the photo, the cake is
brill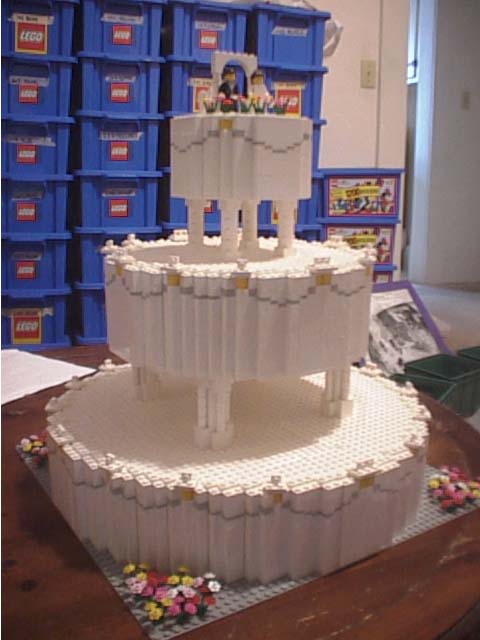 iant! It was even built so that slices could be removed from the bottom tier. Incredi
ble!
!
Finally, t
he bride mentioned that her ceremony
was inspired by
A Lego Wedding
, a post fr
om
L
ivingroom
, a blog by Aussie Darren Rowe. My favorite points:
"
Lego us
es t
he ordinary to make the extraordinary.
Whilst individual Lego pieces seem quite
ordinary, small and insignificant by themselves they actually have incredible
pote
ntial to create amazing things which are only limited by ones imagination.
The same is true for our friends who are in the process of
building an amazing relati
onship which is exciting for us as friends and family t
o watch grow."
"Lego's strength is its diversity. Its pieces are all different shapes, colors and sizes. When these diverse pieces come together they actually create some dynamic things. The same is true for our friends who are two unique people. They have different personalities, have had different upbringings, experiences, struggles, achievements etc. Today as they continue the process of 'becoming one' they do not cease to be two - they don't ignore their individuality, but rather their differences are to be celebrated and looked at as strengths. The challenge is to give space for their individuality to blossom and to encourage each other to reach their potential."
Beautifully
said, Mr. Rowe!

Finally, my search led me to Lego wedding rings, posted by Elzabeth Oakes. Created by German company Edition Mathea, the rings are available in silver or platinum - and best of all, you can actually pop a Lego brick on top!

I knew I loved Legos for a reason!